Silly John took this pic of me in a dorky Viking hat a few weeks back at the toy department of SM Megamall. I don't really get into the Halloween spirit by being in costume or going to parties--nah, they're not really my thing--but I like the celebration and seeing everyone in fancy getup, from kids and pets to professional cosplayers and competitive masqueraders. Posh subdivisions in Makati and Alabang are serious about Trick or Treat-ing; they have costumed residents of all ages festively going around for sweets. Haven't witnessed one up close myself, but I'm told it's a fun spectacle.
This time of the year, for me, brings back fond memories of sem breaks, watching televised or taped scary movies, and trading spooky stories with friends and family.
Enjoy the holidays and be safe, everyone!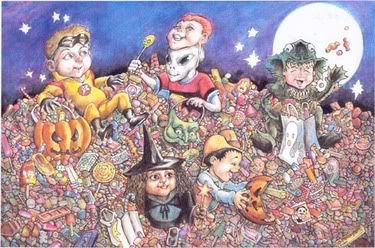 "Candied", Mixed media, Oct. 2000
Was feeling creative a couple of days ago and wrote this chantey of sorts. Make up your own tune.
Halloween Carol
In mist and fog, through doors that creak.
Sunless attics, empty rooms, oh they can make you shriek!
Fear can be anywhere you look:
In a still pond, a quiet street, an awful book.
But brave the unknown, revel in good cheer.
Have fun and fear! Halloween's here!
In cobwebbed stairs, through dark dead trees.
Strange shadows and sounds that make you freeze!
Phobias can be anything you feel.
Open spaces, creepy crawlies, imagined or real.
But brave the unknown, revel in good cheer!
Have fun and fear! Halloween's here!
Dress up and be merry, be nice or be scary.
Be god and frighten them with a flood.
Or act undead and crave for blood.
Or be a creature made of swamp mud!
An emotional vamp, a gold-digging tramp.
A politician on a stamp.
A backstabbing friend, oh you can pretend.
That you deserve the boons the heavens sent.
Put on your makeup, ghouls after breakups.
Put on your angel or fairy wings.
Or slinky cloth held up by strings.
And munch on those colored, crunchy things!
Give your dentist work, eat that sugared bread.
Tonight, the line 'tween heaven and hell, we tread.
Live merry, for one day we'll be dead!
Oh, be anyone you wish, before the night fades.
Feel the power of the annual masquerade.
Be someone you're not, play a part once a year
And brave the unknown, revel in good cheer!
So tart up and sneer! Halloween's here!
Have fun and fear! Halloween's here!
Monsterrific
"I think there's a lot of people out there who say we must not have horror in any form, we must not say scary things to children because it will make them evil and disturbed….That offends me deeply, because the world is a scary and horrifying place, and everyone's going to get old and die, if they're that lucky. To set children up to think that everything is sunshine and roses is doing them a great disservice. Children need horror because there are things they don't understand. It helps them to codify it if it's mythologized, if it's put in the context of a story, whether the story has a happy ending or not. If it scares them and shows them a little bit of the dark side of the world that is there and will always be, it's helping them out when they have to face it as adults."
--
Joss Whedon
,
Buffy the Vampire Slayer: The Monster Book
(2000)
Cosmo Treat

Un-scary stuff. Just wanna thank the nice ladies of
Cosmopolitan
Magazine
for giving
LNA
a
nice review
in their October issue. Yay!
Time to Bogey
This accompanied an article about TV and movie bogeybeings I wrote for the paper three years ago.