...is never enough.
Smithereens
song from 1992.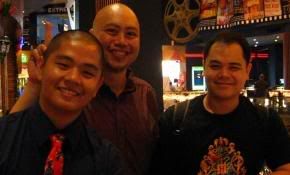 With brainiacs Andrew and Vinnie
With Yvie Molina
Yesterday was the launch of
Siglo: Passion
,
Project Hero
, and Dean Alfar's
Philippine Speculative Fiction
anthology at Fully Booked Greenhills. Went there with Benedict to pick up my complimentary copy of
Siglo
(I did a pinup), and we didn't really expect to stay long, but we met and chatted with a lot of people from the local comics scene. It was fun. Thanks to
Enrique
, whose name I didn't remember immediately (sorry about that, man—how do I access your blog, by the way?), to
Yvie Molina
, who brought her
Lexy
copy to be signed (and thanks for the pictures, above, too), to Dean and the gang, and to those who had their books signed. Left two hours later with
Sky
; we dropped him off at the MRT's Ortigas station. Watched a bunch of old
Angel
episodes at the house later, swapped and opened up some bargain bin-He-Man figs, and talked about everything else again after. Cool day, overall.
New Mutants
Got these pics
here
.
Angel
(Ben Foster) and
Juggernaut
(Vinnie Jones), some of the new characters from
X-Men 3
, to be released next year: